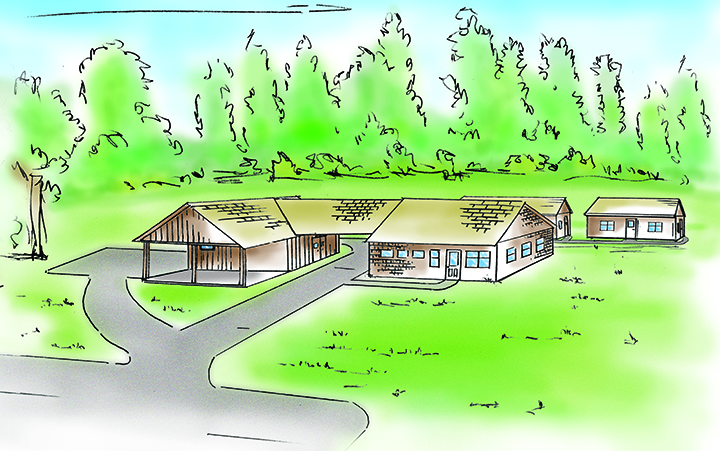 Maine Trail Center
Maintaining the Appalachian Trail in Maine For All to Safely Enjoy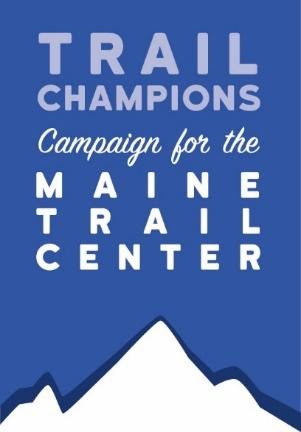 Trail Champions is the Maine Appalachian Trail Club's fundraising campaign to create and sustain the Maine Trail Center, a multi-use facility centrally located in Skowhegan dedicated to improving and maintaining Maine's section of the Appalachian Trail and filling a void for Maine-based sustainable trail design and construction skills training.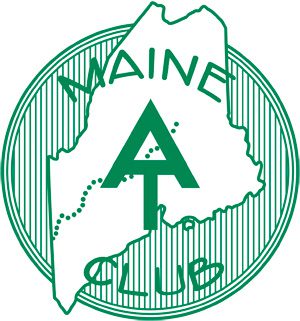 Founded in 1935, the Maine Appalachian Trail Club (MATC) is a volunteer-managed 501(c)3 nonprofit organization created to assume responsibility for the management, maintenance and protection of the Appalachian Trail in Maine. MATC is responsible for improving and maintaining 267 miles of the A.T. in Maine from Grafton Notch to Katahdin, over 60-miles of related side trails, 43 campsites, and for monitoring 34,000 acres of National Park Service lands.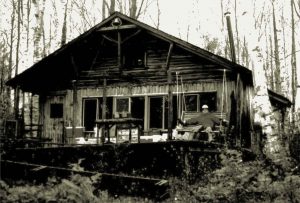 Over the past 30 years, MATC has suffered the hardship of having to relocate its Trail Crew five times as a result of not having a suitable permanent, centralized, multipurpose facility from which to operate. Historically, the Trail Crew basecamp has been located on a small island in a lake in Dover-Foxcroft, which lacks safe drinking water and is accessible only by watercraft. Crew members must travel to a community center for showers and laundry. The Dover-Foxcroft island property is currently for sale, and without an alternative, MATC risks suspending the Trail Crew program and losing capabilities for maintaining Maine's section of the Appalachian Trail.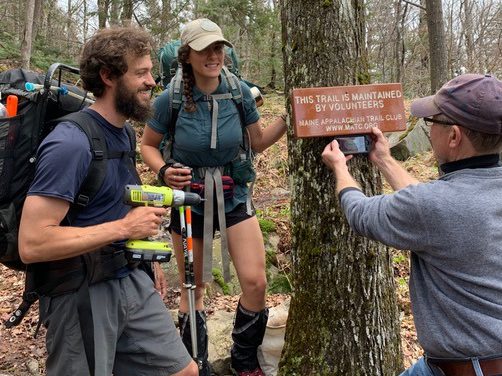 Who will benefit from the Maine Trail Center?
The Maine Trail Center will meet the urgent needs of the Maine Trail Crew while providing a flexible space for a wide range of organizational functions, meetings, and trainings. In a survey of the Maine Land Trust Network, many of the state's 90-plus land trusts expressed a need for training, including trail design, building, maintenance, restoration and chainsaw use. There is no single site that offers training in these skills anywhere in Maine; the Trail Center will fill that void.
The Maine Trail Center will also benefit Maine residents and visitors. The A.T., in Maine, which charges no fees, is the largest network of hiking trails in the state. Hikers spend over 92,000 days on the trail each year. Maine residents and families, visitors from around the nation and foreign countries, college and youth groups, and long distance backpackers enjoy this resource. MATC provides opportunities for outdoor enthusiasts to camp, hike and participate in the stewardship of public lands.
Frequently Asked Questions
The Maine Trail Center will: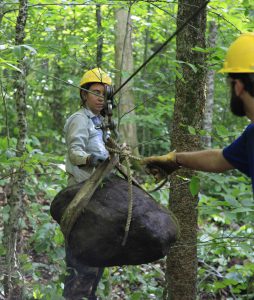 Provide a permanent, stable and enduring home-base for the MATC Trail Crew.
Increase capacity to maintain hundreds of miles of trails in remote areas.

Support trail crews undertaking A.T. restoration projects.

Enable MATC to attract and retain more volunteers from diverse communities abroad.

Increase opportunities for people to enjoy the outdoors, bolster volunteerism and strengthen our stewardship of Maine's outdoor resources.

Provide training opportunities to MATC volunteers and staff, as well as land trusts, municipalities responsible for local trail systems, and other conservation organizations.
Great question! It's important to understand the Maine Trail Center is intended to serve trail maintainers – the hardworking folks who make it possible for hikers to safely enjoy the Appalachian Trail. The Center will be located on a 55-acre tract of land in Skowhegan, which MATC has secured through an agreement with the Somerset Woods Trustees.
This location is ideal given the trail maintenance and education purposes of the Center, as it is centrally located to the A.T.; provides varied terrain and a sustainably managed woodlot offering excellent training opportunities; and is convenient to airports and bus stations that are critical for volunteers and crew members traveling to Maine from afar.
Skowhegan is also a major town with shops,  a convenient grocery store, restaurants and services all within walking distance of the new Trail Center— a great benefit to crew members who are often without transportation.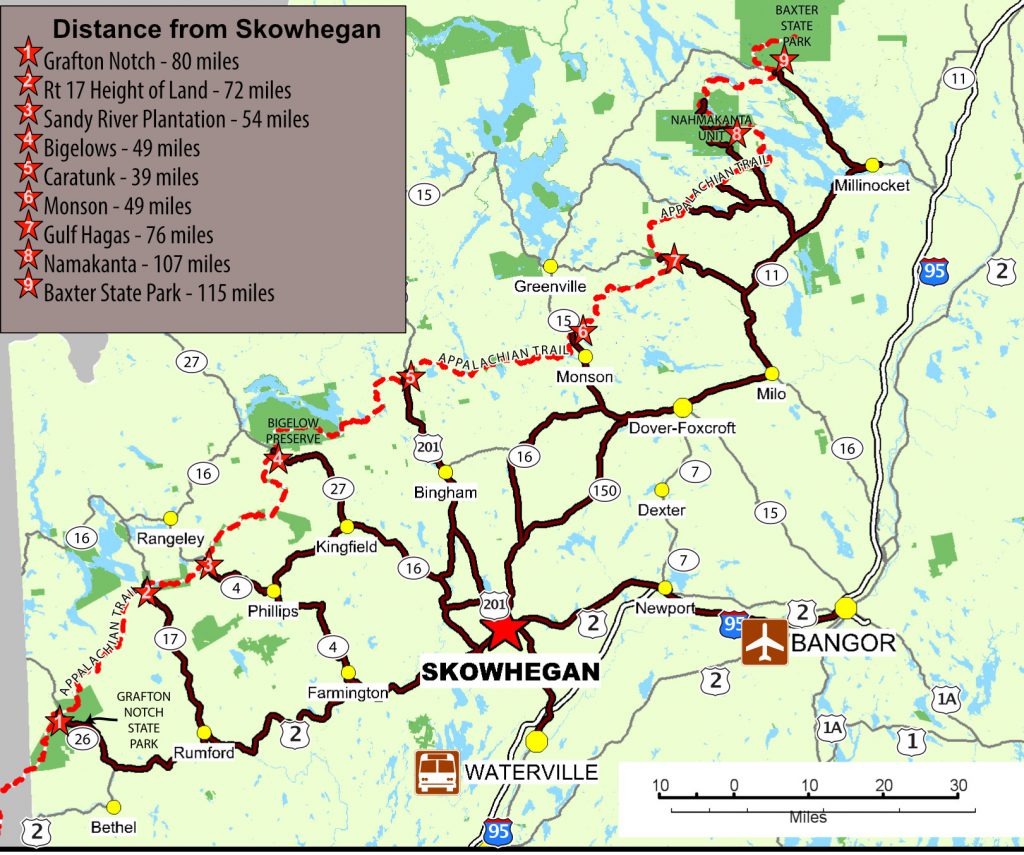 Why Fundraising?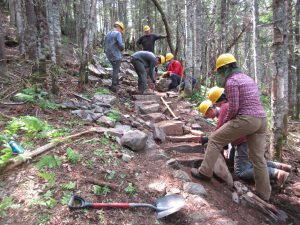 In assuming responsibility for maintaining the A.T. in Maine, MATC also assumes responsibility for raising the necessary funds to conduct its work. All MATC programs and initiatives, including Trail Champions, rely on volunteers and fundraising to cover necessary materials and operational costs. 
Each year, MATC volunteers donate more than 25,000 hours of their time clearing downed trees, trimming brush, building bridges, painting blazes, cleaning out waterbars, monitoring boundary lands, and coordinating Club activities.
Trail Center Design
The Maine Trail Center has been designed to modern building and life-safety codes, and includes passive solar and other green energy design features. Under current plans, it will feature a meeting space, kitchen, housing with overnight capacity of 32, showers, laundry, an office, tent areas, an outdoor work space and a parking lot. A maintenance building will provide storage and a workshop. The Center will be operated on a seasonal basis for the Maine Trail Crew, while being a flexible space for a wide range of organizational  functions, meetings and trainings.